Embassy of India in Bratislava and Slovak Chamber of Commerce and Industry present INDO-SLOVAKIAN BUSINESS FORUM.
Under the visionary leadership of Hon'ble Prime Minister Narendra Modi, the Government of India has released 7-point Hon'ble economic development agenda and is investing heavily into the programs where your participation might be interesting. The programs cover following areas: Make in India, Skill India, Start-up India, Clean India, Governance and Digital India to name a few. The seminar provides practical knowledge pertaining doing business in India, engaging with leadership levels of business and other key stakeholders. Through knowledgeable speakers and real life case studies we aim to inspire innovative Slovakian companies to engage with this market opportunity.
Goal of the Forum
The Indo Slovakian Business Forum sets the goal of fostering Indo-Slovakian economic relations with special focus on trade and innovation. The event brings together prominent speakers and prestigious companies and aims to provide practical guidance on doing business in India.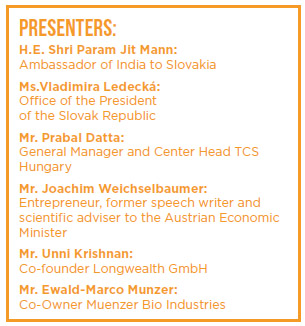 Special thanks to
• Slovak Chamber of Commerce and Industry
• Knowledge- and content partner:
LongWealth GmbH,
And also thanks to the Indian Chamber of Commerce and Culture in Slovak Republic for their support in organizing the event and in bringing together the participants.
Detailed Agenda and Program below: